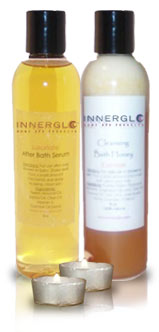 Page 4 - Press for Innerglo

CybeleSays

It's Officially Bath Time...

                                                                  Read their brief review of the latest                                                                               products for the perfect bath in their                                                                             November '04 issue at
Cybelesays.com
.
                                                                  Balms that are the Bomb!

                                                                  Innerglo home spa products' Creamiest                                                                        Shea Butter lip balm is listed in their                                                                              Valentine/Anniversary February 2005                                                                           edition.

Copyright 2008 Innerglo Home Spa Products - All Rights Reserved




Innerglo Home Spa Products has taken the pledge for 'The Campaign For Safe Cosmetics'. We have promised NOT to use chemicals that are known or are strongly suspected of causing cancer, mutation or birth defects. Visit
SafeCosmetics.org
for more info!!
Press for Jypsea, the newest

offering from Innerglo founder

Terina Mckinney

Right: Cover of April 2003 issue of

Upscale Magazine

Below: Upscale Magazine featuring

Terina Mckinney with her line of

leathergoods -Jypsea by Meca

I-Asia--in April 2003 issue of Upscale

Magazine