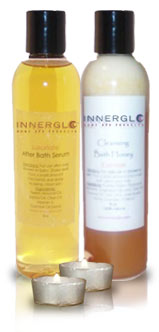 Page 2 - Press for Innerglo

Terina Mckinney, President and Founder

of Innerglo home spa products has been

featured in an article at the Handmade Beauty Network's site.

HBN's 2005 Holiday Gift Guide features Awaken Dead Sea Body Polish!

DonnaMaria of Handmade Beauty Network :

When HBN member Terina McKinney of

Innerglo Home Spa Products joined HBN in

February 2004, she was fairly recently

married, her product line was in

development and her new business was

barely off the ground. Today, she is

enjoying being able to stay at home with

her nearly 1-year old daughter as she

grows her line of spa products through

home spa parties where hostesses earn

generous commissions and free products.

One of her hottest products is the Innerglo Massage Balm, pictured at right. Available in 4 blends (including "Pleasure," made with rose, sandalwood and ylang ylang essential oils), these molded combinations of jojoba oil, shea butter, wheatgerm oil and other natural oils and waxes are a simple way to massage your cares away.

Copyright 2008 Innerglo Home Spa Products - All Rights Reserved




Innerglo Home Spa Products has taken the pledge for 'The Campaign For Safe Cosmetics'. We have promised NOT to use chemicals that are known or are strongly suspected of causing cancer, mutation or birth defects. Visit
SafeCosmetics.org
for more info!!
CraftRevolution says:

Massage Your Cares Away

Everybody needs a little TLC sometimes.

What better way to care for yourself than

a nice, heavenly scented massage?

We love these incredible and all-natural

massage balms from Innerglo.

They're made from luxurious ingredients

like jojoba oil, shea butter and wheatgerm

oil and use pure essential oils like jasmine, frankincense, lavender and chamomile.

Available in Luxuriate, Meditate, Pleasure and Unwind, there's a unique blend for every occasion!

Five Star Reviews has awarded us

their prestigious Editor's Pick of 2004

award!