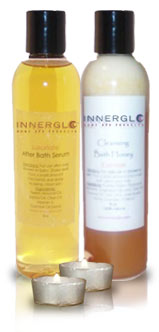 Page 3 - Press for Innerglo

Read what the Celebrity Makeup Artist and Beauty Expert, ELKE VON FREUDENBERG, has to say about our Bath Teas in her publication the Beauty Newsletter.

There's something about an all natural

skin/body line that just does something

to you. Your senses, your skin, your well

being. Innerglo, a 100% natural bath and

body line out of New Jersey, is another

but amazing line that you have to try to

believe it. Created by Terina, a first time

mom who decided that relaxation and

comfort was a new career, took home

spa products one step further. Free of

artifical fragrance and color, only

natural coloring, essential oils, herbs and botanicals are used. From 4 different collections to choose from (based on scents, there's luxuriate, meditate, pleasure and unwind...) you can choose from bath teas (my favorite!), bath salts, bath melts, body scrubs, whipped body butters, mommy-to-be butter balm and more...... With expiration dates to ensure quality.... I got to try the BathTeas in Unwind (lavender, chamomile, goats milk powder, essential oils of mandarin, lavender, cedar and bergamot....) And unwind it was! Pure heaven.

Copyright 2008 Innerglo Home Spa Products - All Rights Reserved




Innerglo Home Spa Products has taken the pledge for 'The Campaign For Safe Cosmetics'. We have promised NOT to use chemicals that are known or are strongly suspected of causing cancer, mutation or birth defects. Visit
SafeCosmetics.org
for more info!!
Laine Paige

She's a fabulous designer of the cutest shabby-chic baby clothes and accessories you'll ever find and a busy mother, which means she has excellent taste and her share of stress. Therefore, believe her review in November's newsletter where she says our products are "wonderful" and" enhance relaxation and healing"!

Innerglo Home Spa Products are designed to help transform your ordinary bathroom into a sacred space for hydrotherapy, relaxation, rejuvenation, and body beautification. I have to admit, I was a little skeptical - as that seems like a tall order. But, I am here to tell you, that they truly deliver on that promise! I am always happy to support a work-at-home Mom business, but there are so many bath and beauty products available and I wanted to know what makes their products stand out.

I researched and discovered that their products are 100% natural and hand-crafted from the finest essential oils, clays, herbs and other elements of the earth to provide the purest product and most luxurious experience. They offer four different collections and lots of different products, so you are sure to find exactly what you need.

For this product review, I tested two products: Bath Teas, and the Creamiest Shea Butter Lip Balm. I truly enjoyed the task of soaking in the tub, and calling it work! I love an excuse for a hot bath, and these teas were wonderful. They are made of herbal and botanical blends, such as peppermint leaves, rose petals, lavender, and chamomile, combined with essential oils to enhance relaxation and healing. The teas came packaged in a beautiful glass jar, so it looked nice sitting on the edge of the tub until I was able to use the teas. The smell was incredible. I highly recommend you try this product.

The lip balm was exceptional. There are many days, particularly in the winter, when I want a plain lip balm to prevent chapped lips or to soothe them once they are already dry and chapped. I am particularly critical of lip balms, because I want something with no color, a really silky feel - without being greasy feeling, and it must taste acceptable. I cannot stand for a lip balm to taste medicinal. This shea butter lip balm was, by far, the best I have ever tried. It was so nice, that I am a convert for life and will never use anything else! It is priced at $4.00 and is a very generous size. The funny part, is that my husband stole it from me! My husband is a United States Marine - a very macho guy - and he loves that he can wear this lip balm and not feel girly at all! So, we both HIGHLY recommend this product! 5 Stars!!!